8th grade Graduation will be in the Yellowjacket gym on May 27th , 2021, at 6:30 pm.

The Jackettes play Lordsburg for the semi finals of the state tournament in Albuquerque, Wednesday, May 5, at 4:00 p.m. The game will be at St. Pius High school at 5301 St. Joseph's Drive in North West Albuquerque. Tickets will be sold at the door or you can watch it live at NFHS. GO JACKETTES!!!!!!
The end of the year is fast approaching and we are excited to share with you the Alvis events that will be coming up! May 25, Tuesday, 1:30 - 2:30: Awards Assembly for grades K-4. We will live stream the awards assembly for any spectators. May 26, Wednesday: Fun in the Sun Day! We will have a celebration of the end of the year with different outdoor activities, stations and games. We will also have a picnic lunch for all students. May 27, Thursday: We will be having PreK promotions and Kindergarten Graduation. Promotion and graduation will be held in the front of the school around the flag pole. Maximum capacity is 150 people. Seats will be spaced 6 ft apart and everyone is required to wear a mask. Students may check out with parents after their promotions. 9:00 - 9:30 Mrs. Keeth PreK promotion 10:00 - 10:30 Ms. DiFrancesca PreK promotion 1:00 - 1:30 Mrs. Sisneros Kindergarten Graduation 2:00 - 2:30 Mrs. Poling Kindergarten Graduation

Today, May 4th, is Teacher Appreciation Day!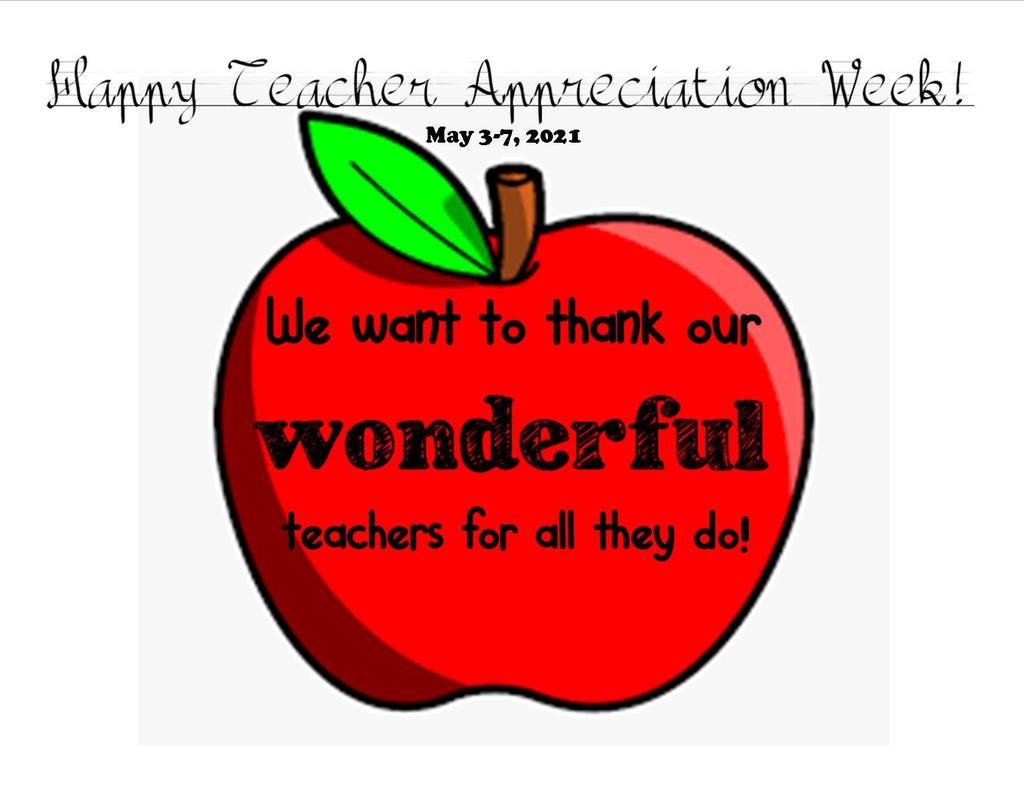 8th grade graduation will be at the Huff stadium at 6:30 PM on Thursday 27th May 2021 We invite you to come and follow all Covid -19 protocols. Please wear your mask appropriately and we will have a fun time representing the best qualities so that we can truly enjoy this wonderful experience.

Junior High track and field starts tomorrow after school. Thank you for your patience We will working hard to get ready for the track meeting in Logan on 20 May 2020 (Thursday). Blessings Henry McCain

You can watch the Girl's game for free through Portales Schools. Go to
www.portalesschools.com
. Scroll down the main district page and click on VIEW LIVE WEBCASTS. There will be an event titled Mescalero vs Clayton. Click on that link at 5:30p.m. and the game will be live. GO JACKETTES!!!!!

The Jackettes will play Mescalero tomorrow for the first round of the state playoffs at Portales High School at 5:30 pm. The county is turquoise. Tickets can be purchased at the door. GO JACKETTES!!!!

The Kiser Track meet will be held on the 19th of May in the morning We will have a meeting this week on Wednesday(5 May 2021) to discuss parental volunteers to help out with the track event for Kiser on 19th May 2021. There will be a planning meeting to be held Wednesday May 5, 2021 at 5:30 to discuss the Kiser Track meeting with parents to discuss assignments and details about the track meeting. Kiser teachers are doing an awesome job of helping to plan intricate parts of this track meet.

Clayton vs Pecos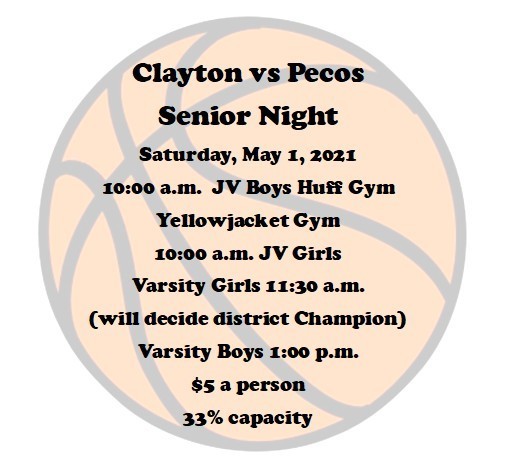 Just a reminder that a face mask is a requirement of the school dress code this year due to the Coronavirus Pandemic. This is a mandate from the New Mexico Public Education Department. Please make sure you have a mask and are wearing it when you arrive at school. It is your responsibility to have a mask daily. The extra masks in the office are for emergency uses only!


CJHS/Kiser I would like to thank everyone who has helped out to make our Junior High Basketball teams have a wonderful opportunity to play. Thank you's go out to the coaches, volunteers and the community. I really appreciate the patience and support. As we play Des Moines on Friday here at 4PM. I just want to thank everyone involved. Sports is back at the Junior High thanks to Kiser players and Ms Jacobs and Ms Bickel. Thank you Coach Funk for all the hard work. Very thankful to our transportation team and who can forget the central office for their support. Thank you so much Molly for your hard work. I thank the teachers and all the help from the Ms Scott and the teachers and parents of Athletes. Thank the ones for covering the books, clock and the refs.

CJHS and Kiser Elementary Please read Friendly reminder We are receiving students at the parking lot across the street from 7:45 - 8:00 AM Due to the safety and accountability of students we appreciate your compliance in this matter

Games in Pecos today will be on NFHS network. Junior Varsity Boys at 4:00, Varsity Girls at 5:30 and Varsity Boys at 7:00.

Game with Springer on Friday 23 April CJHS Basketball 4 PM 8th grade Boys Combined Girls NO FANS Away Home CJHS Basketball Des Moines Here next Friday 30 April 4 PM 7th grade Boys Combined Girls


CMS Regular Board Meeting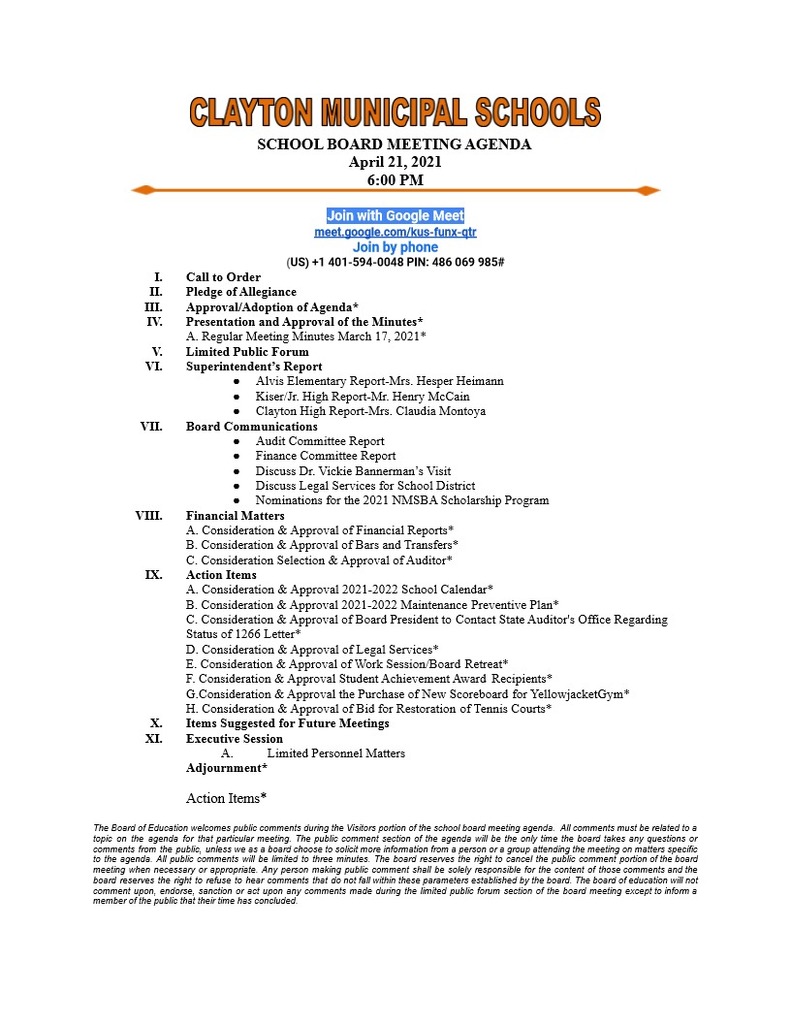 Way to go CHS Volleyball!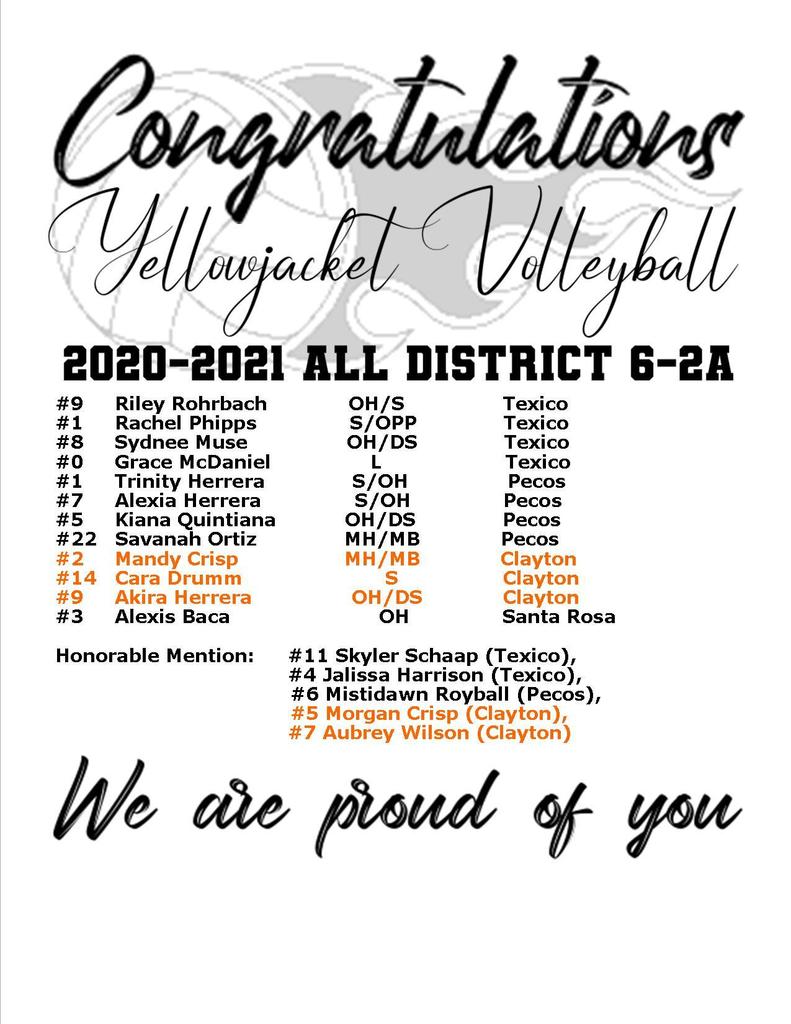 Deputy Secretary Dr. Vickie Bannerman to visit Clayton Schools