CHS Excellent Attendance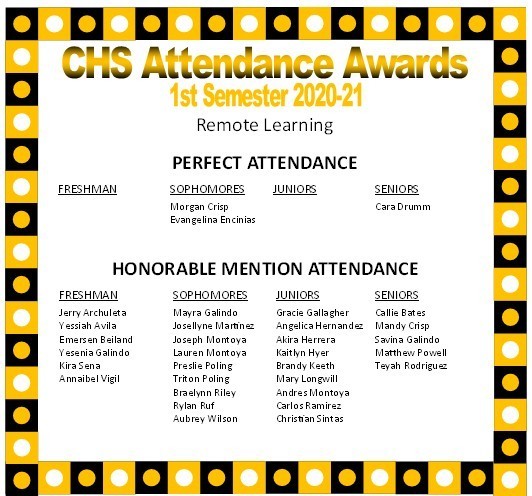 Life Touch pictures for Clayton High School have been cancelled for January and will be rescheduled at a later date.

​Students, parents, and Clayton Community: Starting on January 18, 2021, Alvis and Kiser Elementary will return to the Hybrid Model of instruction. We will continue with the schedules that were in place before the Thanksgiving break. Cohort A will attend on Monday & Tuesday and Cohort B will attend Thursday and Friday. On Wednesday, all students will be doing remote learning.

CHS 1st Semester Honor Roll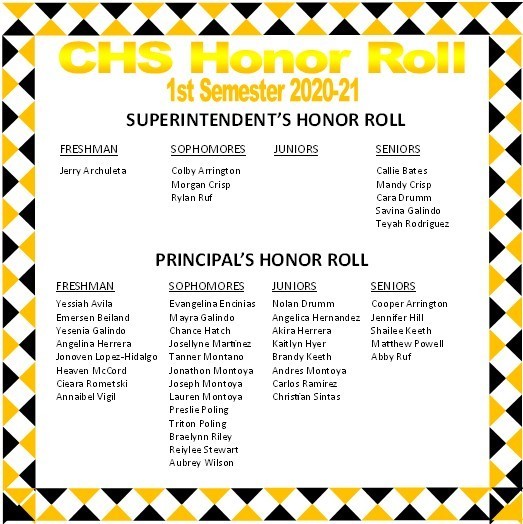 CHS 2nd Nine Weeks Honor Roll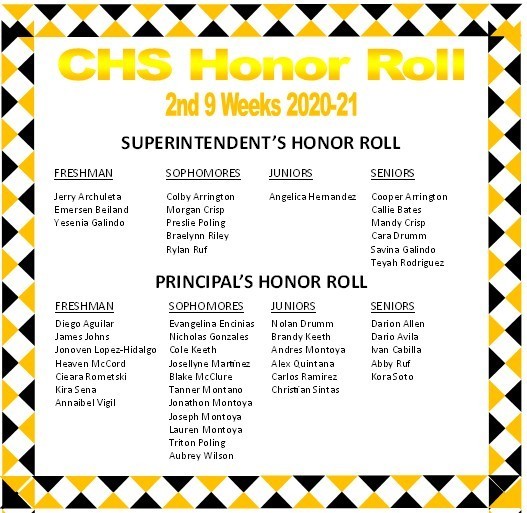 CJHS Student Council First Scavenger Hunt: Starting Date: January 19-26,2021 Rules: There will be 5 patriotic ribbons with a gold star in the center that measures 4 inches hidden around the community. Review the clues below in order to provide you assistance in finding the patriotic ribbons.The first person to report and provide more than 2 ribbons will receive their prize; Remember Everyone Deployed (R.E.D.) tee shirt.There are 2 ways to get your prize; you can email
henry.mccain@claytonschools.us
or call the office @ 575-374-9543. If there is a draw we will supply another clue to break the tie. Clues: It has a million stories but cannot tell them. Go to a place you can get a game ticket and where a football is being thrown! Where there's smoke there's fire who should I call. It's not just birds that fly, But these go very high. Where they land you'll be When you solve this mystery. A place where you buy groceries


Junior High Athletes Please be advised: All students wanting to play sports must complete their paperwork before 18 Jan 2021. You must have no F's for the 1st Semester and you must check in my office for all completed and required paperwork. For possible Spring sports

CJHS/Kiser: Please be advised that students' report cards have been mailed for 1st Semester. Please be advised that we are monitoring the non-educational use of students' Chrome-books issued by the schools. Students will have Chrome-books confiscated for misuse of the the expressed purpose of the device. Please contact us anytime with concerns or issues Thank you

Clayton High School synchronous classes begin today, Tuesday, January 5, 2021. Today will be even number classes. Be sure to check in to all of your classes everyday in Google Classroom. Your CCR class starts this semester too. The CCR class is not synchronous. Check in on Google Classroom to get your assignments. Have a great semester.

Congrats to 2020-2021 CJHS Student Council members 7th grade campaign managers: Adrian Quintana Alison Poling Hadley Crisp Omar Valdez Jayden Crisman Aloria Luna

Congrats to our 2020-20201 CJHS Student Council President: Briana Taylor Vice-President: Corvin Scott Secretary: Aishah Munoz/ Jesy Holland Treasurer: Reagan Hatch Reporter: Bo Poling


FREE MEALS delivered to homes. Be looking for the delivery bus by 9:00 a.m. and 9:30 a.m. Be sure someone comes out to receive the meals. Meals will not be left if no one is there to receive it. It is not too late if you would like to sign up for meals during remote learning. You can sign up at
www.claytonschools.us
Any child age 0-18. You only have to sign up once!!! Let Central Office know if there is a day that you won't be home to get the meals at 575-374-9611.