CMS Special Meeting June 16, 2021 5:30 p.m.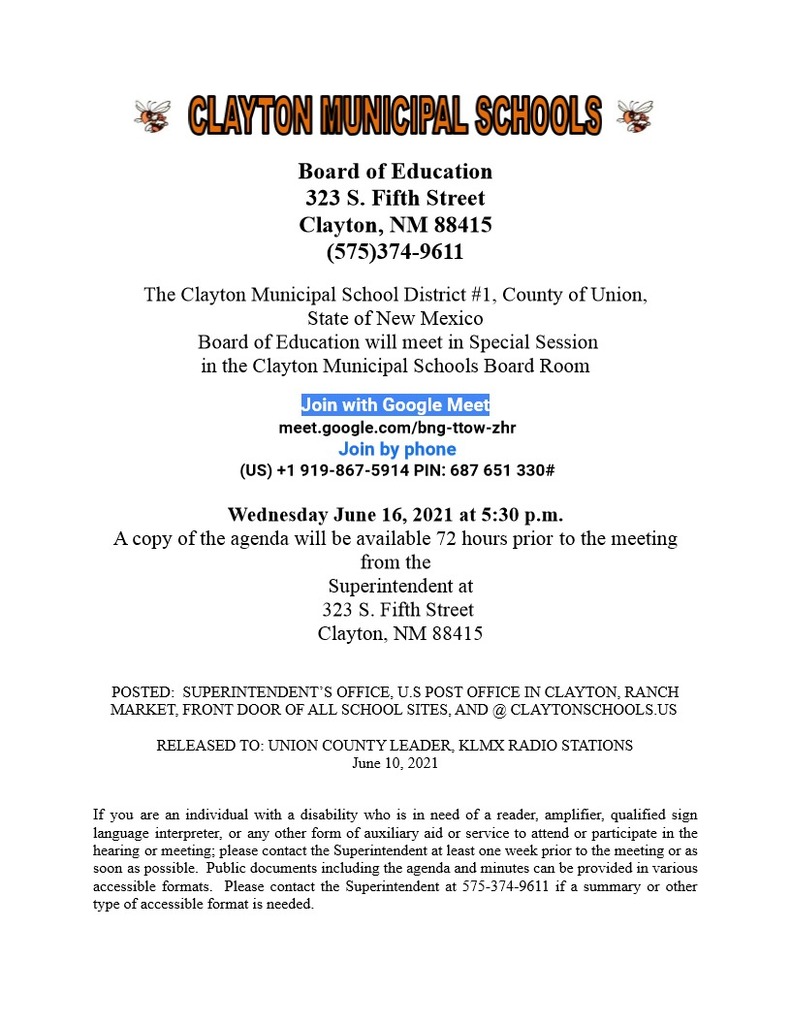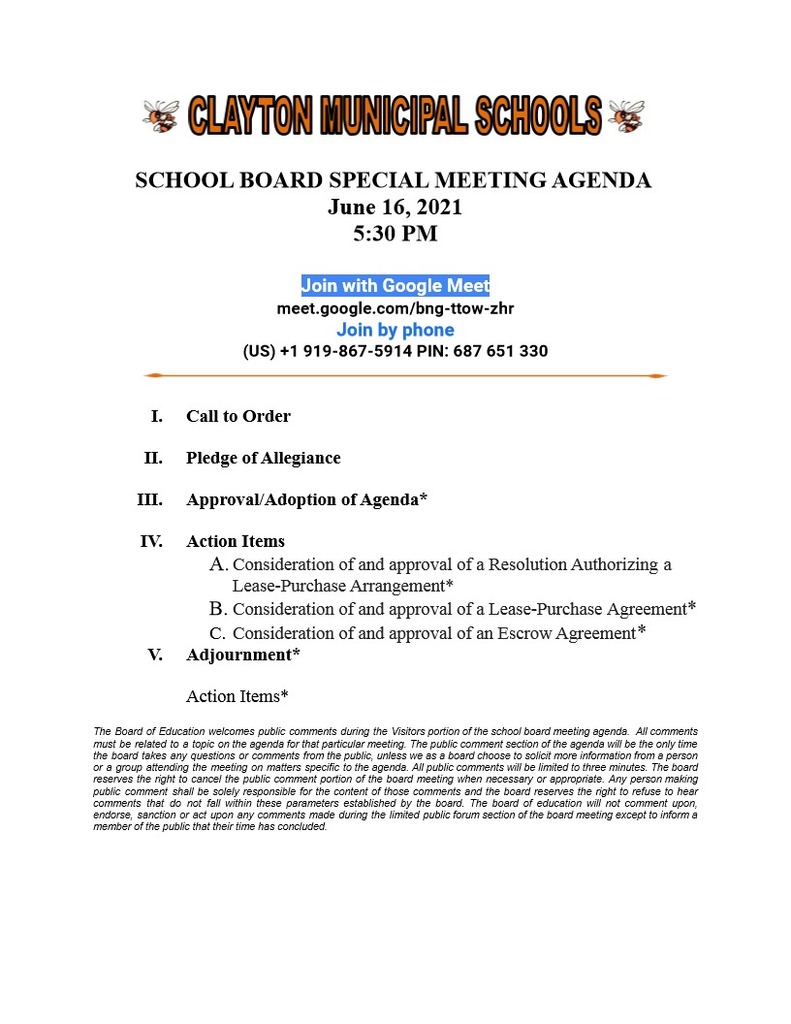 The Texico baseball game scheduled for Saturday has been moved to Tuesday, June 15. CHS will play a double header with Pecos @ 1:00 and Texico @ 4:00. Go Jackets!!!!

CHS Softball will play Santa Rosa, Thursday, June 10 @ 12:30 and CHS Baseball will play Santa Rosa @ 1:00. Go Jackets!!!

The softball and baseball games with Santa Rosa are moved from Saturday, June 5, to Thursday, June 10. Softball at 12:30 and baseball at 1:00.


Due to the threat of severe weather the CHS Graduation will be at Yellowjacket Gym at 6:30 pm. Masks will be required.

Tonight's 8th grade graduation will be live streamed on Facebook. Starting at 6:30 PM on 27 May 2021 at the Yellowjacket Gym .

CHS Graduation is Friday, May 28, at 6:30 pm at Huff Stadium.

CMS Special Board Meeting June 2, 2021 at 4:00 p.m.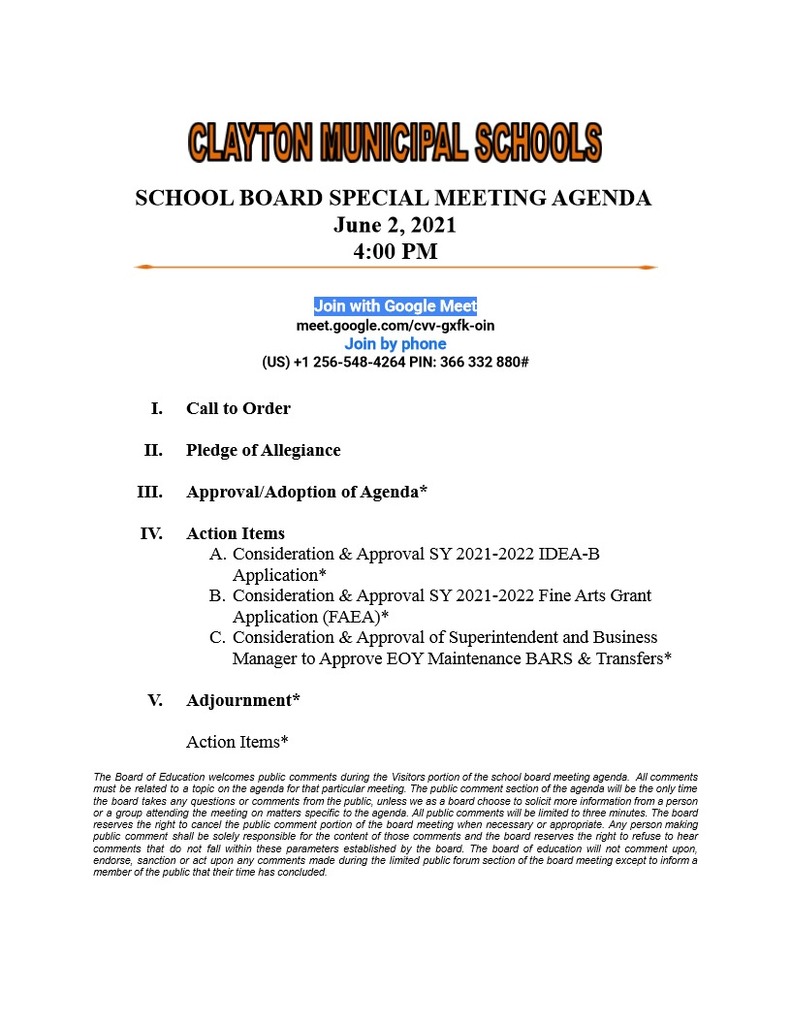 CMS Board Retreat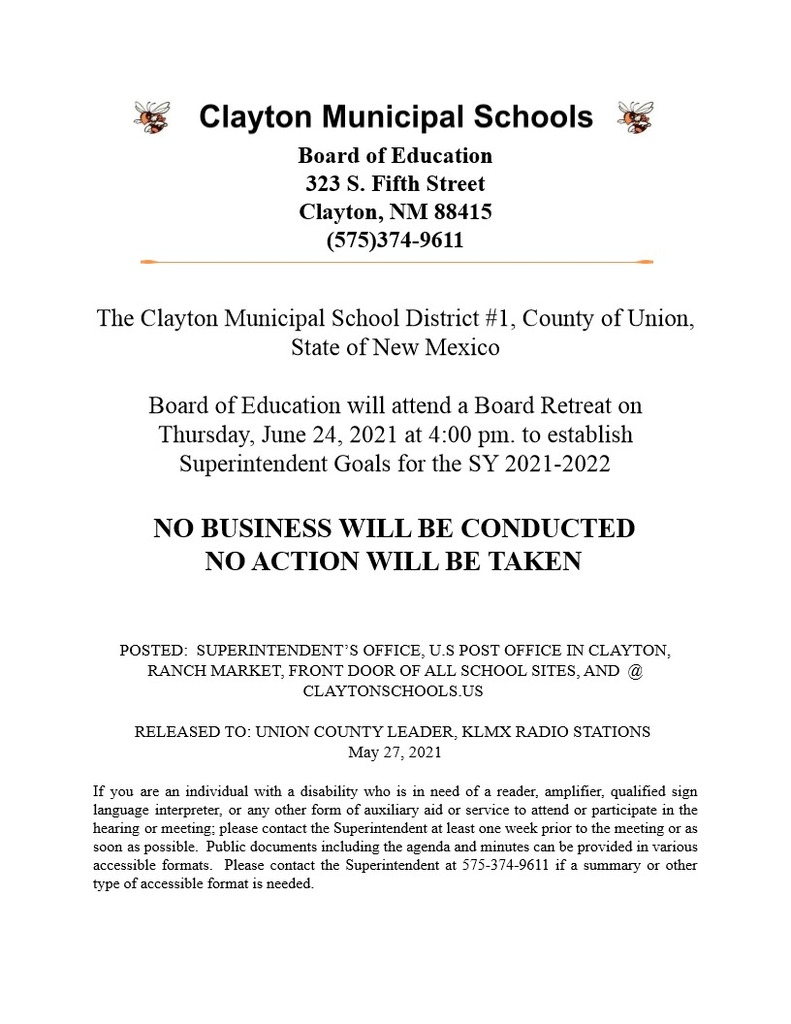 Graduation Notice for CMS School Board

2021 Senior Prom King and Queen Matthew Powell and Callie Bates!!!

Prom goers you can get professional prom pictures. $20

CHS Baseball plays here against Logan at 11:00 and 1:00. Come out and support the team!!! Good luck to Softball in Mora at 1:00 and 3:00.


Live Link to tonight's Regular CMS Board Meeting Join with Google Meet meet.google.com/qhe-sddf-bxh Join by phone ‪(US) +1 424-277-0480‬ PIN: ‪519 838 137‬#

Kiser Elementary Track Meet Today Starting at 9:00 AM 9:00 AM 25 Meter Dash 9:10 AM 50 Meter Dash 9:20 AM 75 Meter Dash 9:30 AM 100 Meter Dash 9:40 AM 400 Meter Relay 9:55 Tug-O-War 10:05 Soft ball throw # In all events,girls will go first and then the boys

CHEER MEDAL CEREMONY Wood Auditorium Thursday, May 20, at 2:00 p.m.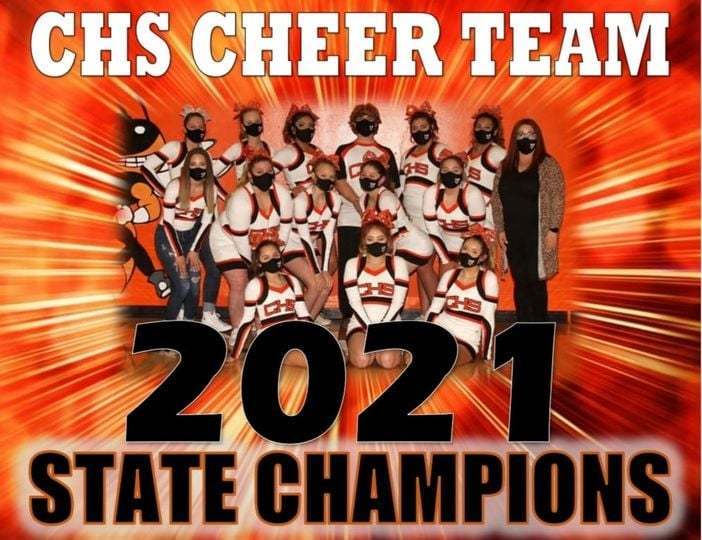 The Sports banquet will be postponed until after spring sports due to a scheduling conflict.

Graduation 2021!